Tide Plotter now available. Download an evaluation copy now to see it in action.
Read what the press have been saying about Tide Plotter on our reviews page.
Purchase Tide Plotter online for only £10.99
Find out exactly what Tide Plotter can do by visiting our features page.
What Ports are included? Here is a complete list.
Unlike other tidal prediction programs Tide Plotter is updated every year making sure you benefit from the latest advances in technology and the use of the latest Admiralty data. The following additions and amendments have been made in Tide Plotter

T
A new tidal streams component included with no extra charge on the standard Tide Plotter product. For the sea areas surrounding the UK and Ireland, including the English Channel, we have presented tidal stream information from the chart tidal diamonds.

This is presented in a graphical format. Hover the cursor over the tidal stream arrow and the direction and strength of stream is shown. The stream information can be displayed either at a date and time determined by yourself, or, Tide Plotter will continuously update that information constantly in real time.

No more need for the Maths of interpolation to make those calculations.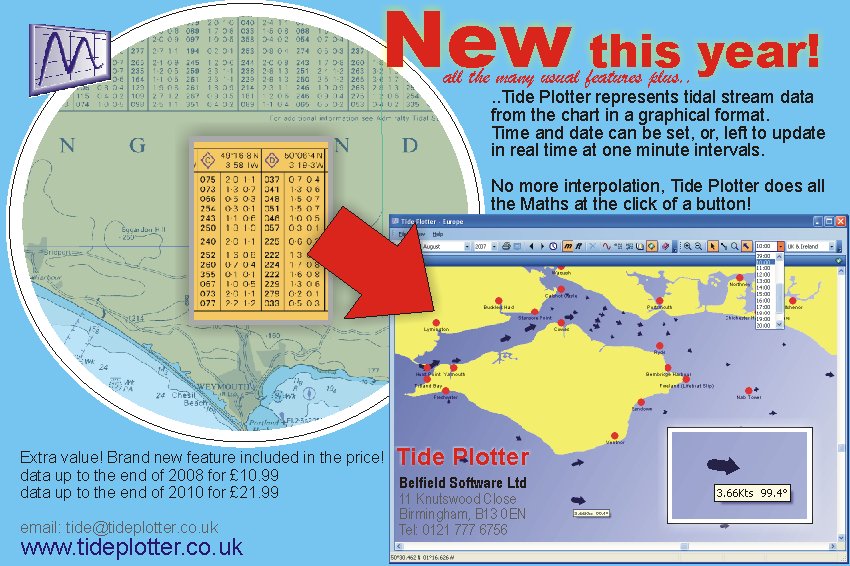 New for 2007!! A new interface for GPS to go with the screen with a scale map giving a point and click option to find tide times and heights. There is a new facility that enables data to be exported to a spreadsheet. These supplements last year's features of a facility to draw distances and bearings. There is also a tidal streams add on which can be purchased at an additional cost of £33.95 per sea area. This shows tidal streams for offshore passage making and will work out tide vectors and course to steer and passage time.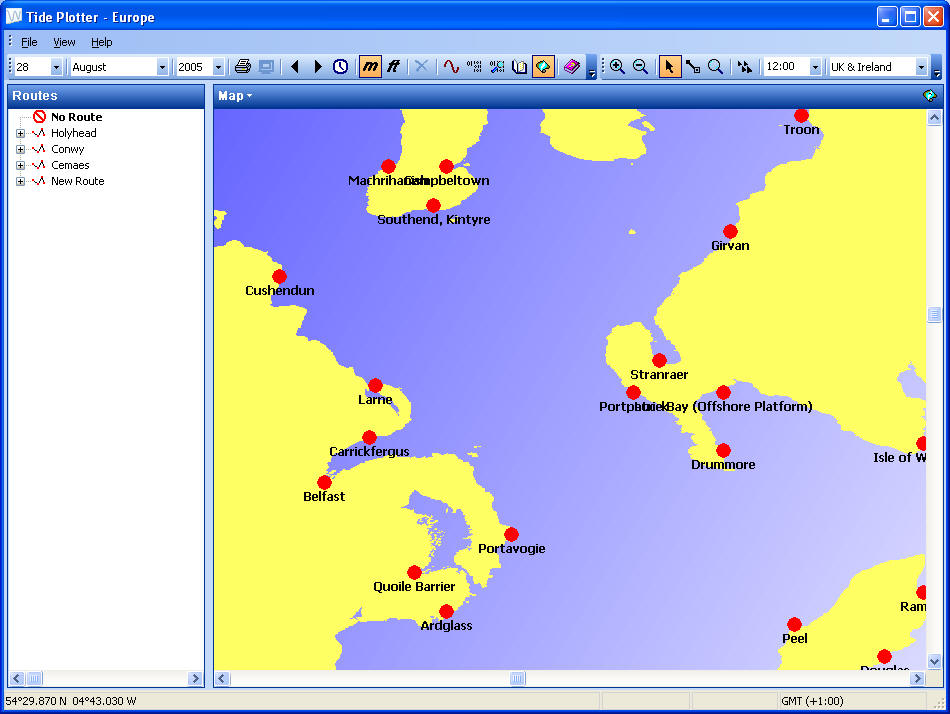 A version for Australia

A first with a version for the new generation of Smart Phones. Download all 600 ports onto your mobile phone.

3 year version now available

A version with additional European ports. Brest to Gibraltar and Northern Norway to Holland, plus of course the bit in-between, UK and Ireland

An East coast of America version, including the USA Canada, the Caribbean and the Gulf of Mexico

Logbook

- free, a logbook in pdf format, contains useful information as well as allowing you to record all your trips

Working with tides

- free, an electronic book giving both the theory of tides plus practical examples for you to work through. Excellent if you are following an examination syllabus etc

Photo gallery

- a new set of 200 high resolution photos and images
Updated

manual

explaining the wide variety of uses for Tide Plotter
Additional ports added
Latest data from the UK Hydrographic Office. Making sure you benefit from the most recent surveys and observations of ports and harbours.
plus the additional features in previous editions: